Apple Roof Cleaning Tampa cleaned this customer's Tile Roof about 6 years ago. He lives up in Tampa Palms in the 33647 Zip Code, and they are deed restricted in there. If his HOA was not so Anal, he could have got a few more years out of his Tile Roof Cleaning, but they want everything Spic and Span, in his section of Tampa Palms! This family is a real pleasure to clean for. She is a Nurse at Tampa General, actually she is a Nurse Practitioner ! And he is an Architect with a well known Tampa area firm. We joke about that building in Downtown Tampa known as "The Beer Can". He really is a great guy, and a fellow Tampa Bay Buc's fan, who loves to talk about Football! Everyone here at Apple Roof Cleaning Tampa are big time Tampa Bay Buccaneer Fans, who used to be season ticket holders, until they forced you to buy 2 years of Seats, instead of just one. I guess they are trying to get as much out of Tom Brady before he retires, as they can ? But this will surely be his last year, because he has a 375 million dollar contract with Fox Sports waiting for him!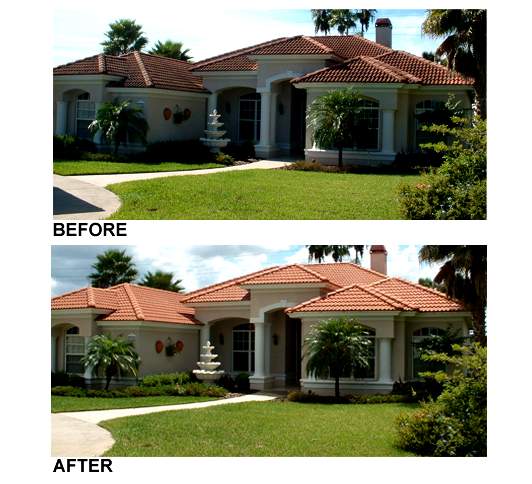 This Tile Roof cleaned right up, just like it did the first time we cleaned it. These customers should be good to go for another 6 years, and our Invoice for the Tile Roof Cleaning got the Tampa Palms Homeowners Association off their back.
If you are thinking about getting your tile roof cleaned, and want to get an idea of your roof cleaning cost, call Apple Roof Cleaning Tampa at 813-655-8777. Most of the time, we can provide a free estimate by telephone w/o actually coming out to see the roof.