July 21, 2014
Here is A Big Tile Roof that we cleaned today 7-21-2014. We started this tile roof cleaning at 9 am, and just finished an hour ago. It is now 4.51 pm, and here comes the well known Tampa summertime afternoon rain!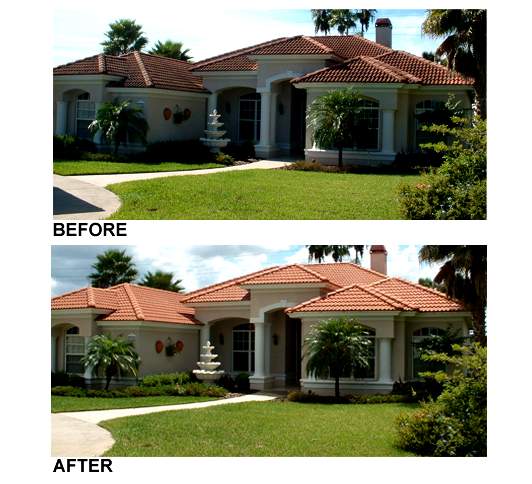 This was a large 5500 sq ft home, with a lot of tile roof surface on it. We were barely able to get this large roof all nice and clean, before the rains came.
This whole community in Seffner Florida got letters from their homeowners association, and this makes the 15th roof we have cleaned in this subdivision. All these roofs are all tile, and every home in here is 4500 sq ft and up.
This customer chose us because he has seen our work, and wanted his large tile roof properly cleaned. Our guys had a beautiful view of Lake Thonotosassa from the top of this tile roof. It is one of the larger freshwater lakes in the Tampa Florida area.
If you have a shingle, tile, or metal roof that needs to be cleaned in the Tampa Florida area, call us at 813-655-8777 for a free consultation and estimate.
Here in the Tampa Florida area, I would say about 60 percent of the really nice places to live are deed restricted. Some areas have very vigilant homeowners associations, that will send out roof cleaning letters for one little black streak on the roof, and some of these HOA's will wait years to send letters. I have been asked by several Tampa Homeowners Associations, when is the right time to send roof cleaning letters.
The best time, is when 1/2 or more of the roofs are covered in this Black Roof Algae.
It is never good to do a partial roof cleaning, but we do give our customers a break when only 1/4 to 1/2 of the roof needs cleaned. But, we do it the correct way, and clean the dirty part of the roof, then apply the treatment chemical to the "clean" part.
The worst thing these Tampa Homeowners Association can do to their residents, is to wait until every roof is absolutely filthy before asking the residents to clean them. This forces us roof cleaners to use tons of chemical solution to get them clean, and increases the chances of having an effect on the landscaping. Having Gutters down here in Tampa is not the normal thing it is up north. 1/2 or more of our business is cleaning tile roofs on 5000 plus sq ft homes with little to no gutters on them, and tons of delicate expensive landscaping!
When the Homeowners Associations allow these roofs to become filthy before letters are sent out, we often are forced to use 2 to 3 or more coats of the cleaning chemical.
This is a cement tile roof we cleaned in the Cory Lake Isles community in New Tampa. You can see it was filthy, and had no gutters.  There was landscaping all over the place, and it took 3 coats of the roof cleaning chemical to get it this clean. 
Here in the Tampa Florida area, most nice subdivisions are deed restricted, and require you to maintain your homes paint, yard, and the roof as well.
If you move into one of Tampa's Deed Restricted communities, you sign your life away, and agree to give them great power over you.  If you receive and defy 3 roof cleaning letters, they will start a legal process against you. Some customers think they are "cool" by refusing to clean their roofs, but us roof cleaners all know that the black stains on their dirty roofs can and will spread to the neighbors clean roofs!
It is unfair and inconsiderate to your neighbors to allow your roof to remain filthy, while they are trying to keep their place clean.
I have little sympathy for people who chose to compromise their friends and neighbors, by refusing to clean their roofs.
We are almost always super busy, so it is not the extra roof cleaning work we need.
But when people move into a super nice deed restricted community here in Tampa, and know the rules and promise to abide by them, but then don't,  IMHO this is like sending a sick child to school to infect the other Kids.
All it takes is one filthy roof, to spread it's filth to the other roofs in the area by airborne spores, and other means of transmission.
We cleaned this barrel tile roof recently, and we are very happy with the results of this job in Tampa Palms. Few roofs look better, when they are clean, then a white tile roof, and few look worse, when they are dirty! 
This roof cleaning job came to us from a well known Tampa Painting Company. This customer wanted to get his roof cleaned first, before he has his home painted. These folks were very very nice people, and are from one of Tampa's original founding families!
Despite our "protests" they insisted we eat the deviled crabs they make from scratch, and also served us some awesome home made Lemonaid that was good and cold. It was 95 degrees outside in Tampa today, and probably 110 degrees, up on this roof we cleaned!